by Ellen Rogers
April 29th, 2016
It Could Happen to You
I was in college in Raleigh, N.C., when Hurricane Fran, a category 3 hurricane struck in 1996. We knew the storm was coming, but perhaps, being so far inland, didn't think we'd see the devastation that we did. But boy, did we ever. Fran was the worst storm to strike southeastern North Carolina since Hurricane Hazel in 1954, and for the first time in North Carolina history, a state of emergency was declared in all 100 counties.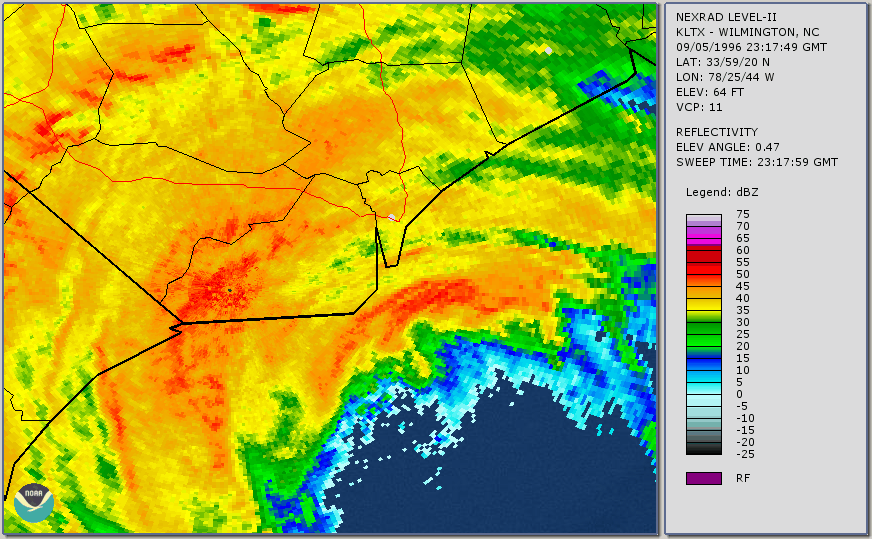 The aftermath of Hurricane Fran (the image above shows the radar eye of the storm) was awful, but it doesn't compare to the destruction that has come from other storms. Some tornados, for example, can be far more detrimental and, unlike with a hurricane, they provide little to no warning. But from these disasters, we can learn a lot—a lot about how to re-build to be stronger and safer.
Nearly five years ago, on graduation day, an EF5 tornado pounded through Joplin, Mo., killing 161 people—seven were students and one was a school staff member. Had schools been in session, the loss of life could have been far worse; there were no tornado safe rooms in any of the schools. Today, there are 12.
Thanks to the advances and developments in glass and glazing, these safe rooms are not windowless bunkers. They are gymnasiums, libraries, performing arts centers. They are functional spaces that can be used every day.
We've come a long way when it comes to protective glazing. In schools especially, these products are being used more and more. And that's a good thing.
This is a subject you can read more about in an upcoming issue of USGlass magazine. As always, we welcome your input. Feel free to email me at erogers@glass.com if you have been involved in a unique protective glazing development or if you're working on a design that uses ample glass for both aesthetics and safety.